Titel:
Charlie and the Great Glass Elevator
Författare:
Roald Dahl
Förlag: Puffin Books
Antal sidor:
176
Språk:
Engelska
Serie: Uppföljare till "Charlie and the Chocolate Factory"
(utläst 21 juli 2011)
---
Beskrivning från Goodreads:
Last seen flying through the sky in a giant elevator in Charlie and the Chocolate Factory, Charlie Bucket is back for another adventure. When the giant elevator picks up speed, Charlie, Willy Wonka, and the gang are sent hurtling through space and time. Visiting the world's first space hotel, battling the dreaded Vermicious Knids, and saving the world are only a few stops along this remarkable, intergalactic joyride.
---
Kommentarer:
Ska försöka komma ikapp med alla mina lästa böcker, har en hel del recensioner att skriva nu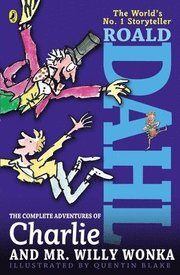 känns det som. Lite stressigt och den 22 augusti är det nollning en månad framåt då jag gissar att jag kommer ha fullt upp och knappt någon tid alls över till bloggen =(.
Så på vissa böcker så som denna blir det en fjantkort recension. Böcker som förtjänar mer ska jag dock lägga mer tid på =).
Så över till boken, detta är alltså
en uppföljare till Kalle och Chokladfabriken eller Charlie and the Chocolate Factory
som originaltiteln är (någon mer än mig som stör sig på att de bytte namn på huvudpersonen i översättningen?). I alla fall så är den första boken en av mina favoritbarnböcker och har lyssnat på den som ljudbok flertalet gånger (hur mysigt som helst, tips tips!).
Denna var dock en
besvikelse
… Den kändes flummig på det dåliga sätte och jag fick tvinga mig att läsa klart. Tror att detta kan vara
Roalds sämsta "verk".
Så
läs den INTE
ni blir bara besvikna. Se den fösta boken som den enda boken, bättre så.
Någon mer som tycker som mig?
Filmatiseringen av den första boken med Johnny Depp i rollen som Willy Wonka tycker jag förövrigt är underbar!